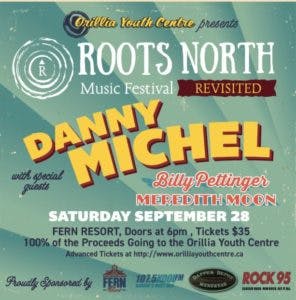 The Orillia Youth Center is a local facility providing drop-in after school activities for youth ages 11-17 in our community. Teens from all walks of life have access to this center and are provided with opportunities to get involved in arts and music programming, cooking lessons, homework help, housing support, mental health support, and overall a safe, supervised environment to hangout and have fun in. This incredible operation is completely free of charge for any teenager that walks in the door, making services accessible to those who otherwise may not ever get the chance.This organization is staffed by qualified youth workers and volunteers who dedicate their time helping make a difference in these teens lives. It wouldn't be able to happen if it weren't for Kevin Gangloff, his dedicated team and generous donors of the community.
Are you interested in getting involved but don't know where to start? The center will be hosting a charity concert event 'Roots North Music Revisited' on September 28th at Fern Resort. 100% of the money raised from sponsors, ticket sales, silent auction and donations to the event will go directly to the youth programming fund at the center which allows them to keep up the great work their doing. It is a great way to give back while also having a great evening out! For more information on the Center or the Roots North Music Revisited charity concert, contact the Orillia Youth Center at 705-325-8082.
Follow me on Instagram & Facebook to see more local highlights!!